The UNBC GIS Lab has upgraded our servers for Fall 2020. Please follow the instruction below to connect UNBC GIS Lab computers and servers
If you are previous GIS lab user and need to access GIS servers, please send email to Senior Lab Instructor (Ping or Matt) to get your account reset
Connect GIS servers remotely
Two ways to connect GIS Lab servers remotely
Connect GIS servers through VPN
To connect to GIS servers remotely you will need two pieces of software
A VPN client (Paloalto)
Remote Desktop Connection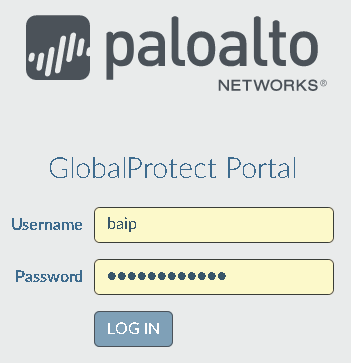 Login with your unbc account. here you can download the vpn client based on your computer platform. NOTE: Windows users should download the second using th second link on the pages

(You most likely need 64bit, the 32bit version will install but not connect on 64bit computers)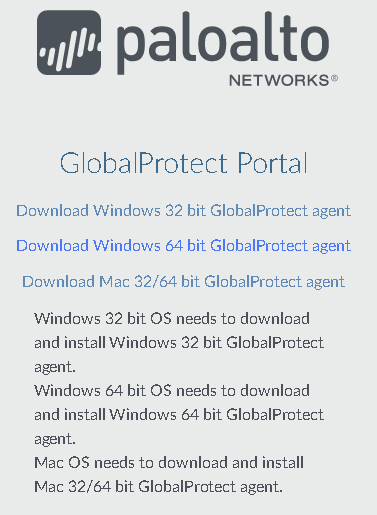 After installed, run it and give vpn2.unbc.ca to connect
Login with your UNBC account. Once connected, you are ready to connect to GIS server. Note that every time you want to connect to GIS server, this VPN connection must be connected first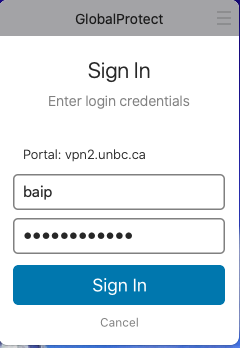 Connecting Using Windows
In window environment, key in 'remote' in start menu and click Remote Desktop Connection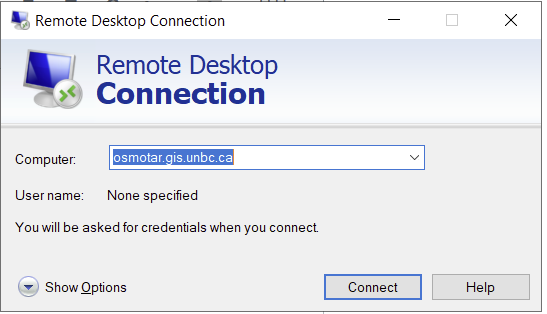 Set computer to osmotar.gis.unbc.ca. Click Connect button
If your computer cannot verify the identity of osmotar open the advanced tab and set If server authentication fails: Connect and don't warn me. (This is related to the load balancer used for distributing work).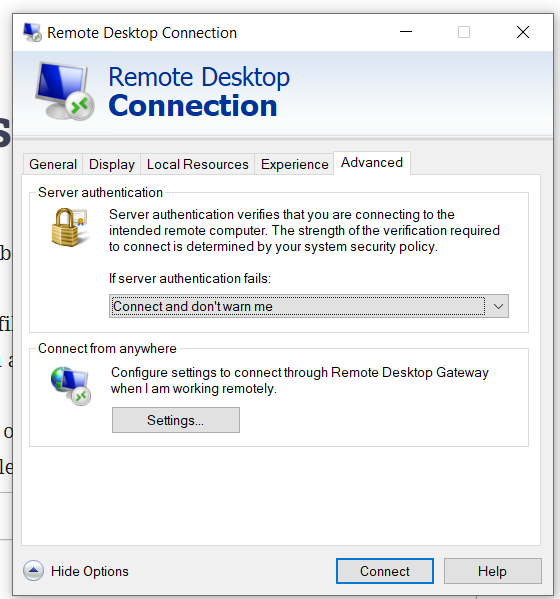 Login with uni\your username and password then hit Connect button. After connected, you will be in the GIS lab server environment (Osmotar)
If you look at the top of the screen, there is a title bar with osmotar.gis.unbc.ca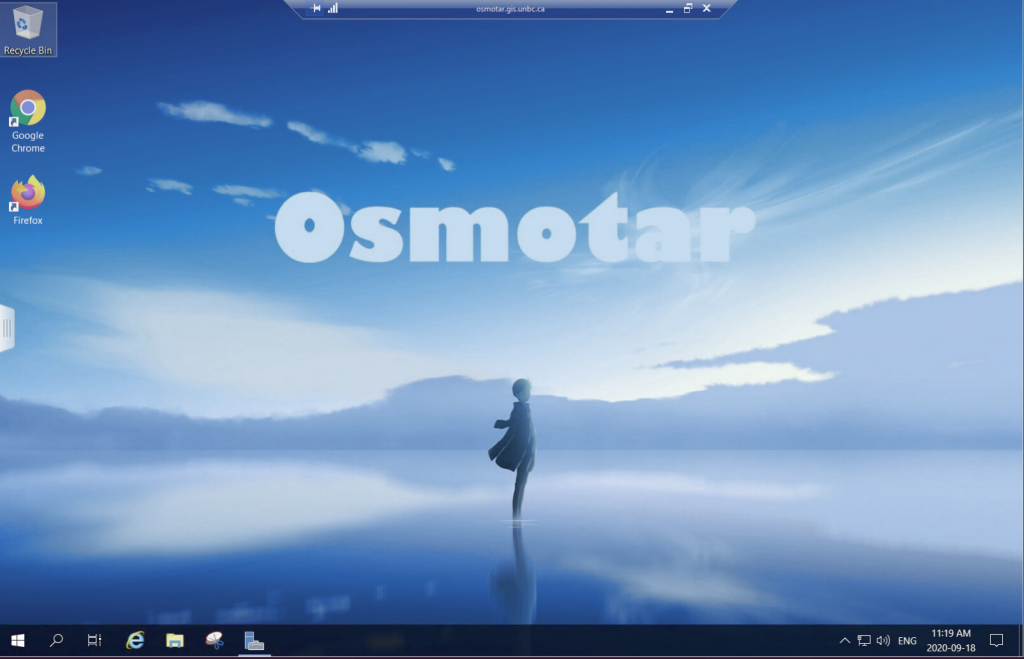 Two important network drives on Osmotar: K & L

K drive is your home directory on GIS server with full access.
L drive is a read only data directory for all data used in GIS lab and projects. Now you can run ArcGIS there.
To logout from Osmotar, click the Start at lower left, move your mouse cursor up at left to the button with person like and click it and Sign out
Note: Always sign out after work, otherwise, you are still on the server even you close/disconnect the window.
Connecting Using a Mac Computer
If you are using Mac computer, you will need to install VPN in the same way above and connect to the UNBC VPN
After VPN client installed and connected, you will need Microsoft Remote Desktop App installed in order to connect to GIS server.
You do this by going to Apple Store and search for it and install. Click the image to see the web page for the App.
Now you can connect GIS server from Mac. Open Microsoft Remote Desktop and click the dropdown beside + button at top ->Add PC
Here you set up the server to connect:

PC Name: osmotar.gis.unbc.ca
User Account: uni\your username
Friendly Name: Osmotar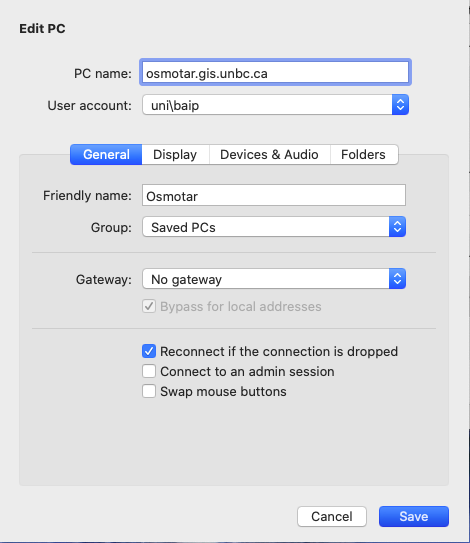 Click Save button to save the connection. Now in Microsoft Remote Desktop window, you will see Osmotar is listed there.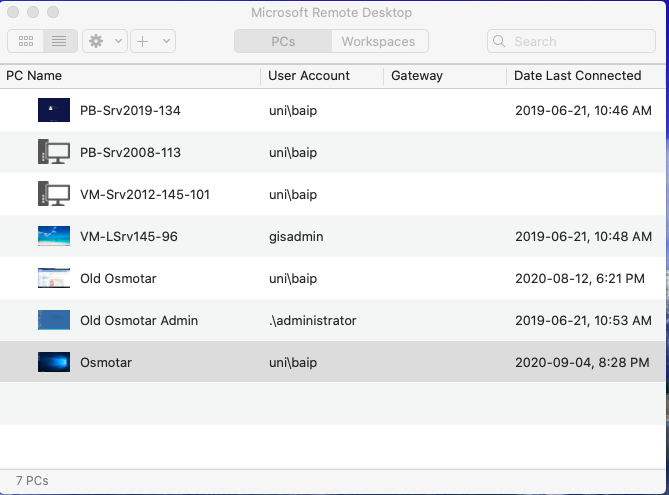 Double click Osmotar to establish a connection. Click Continue button when warning popped
In the login window enter your UNBC password
The connection is saved and just double click it whenever you want to connect to GIS server
Connect GIS servers through VMware Horizon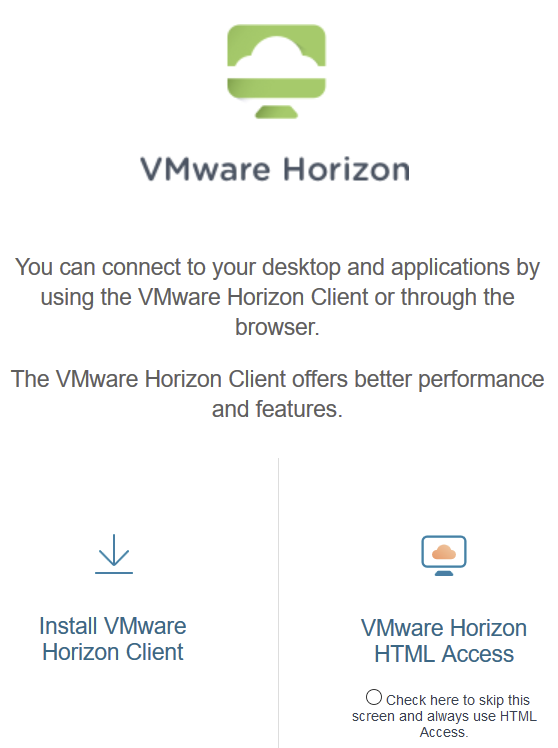 Here you can either install Horizon client to your computer or simply click on VMware Horizon HTML Access which is running in web browser. In general, running a client on local machine will have a better result
Once the client installed or you click the VMware Horizon HTML Access here. You are in the login page. Login with your UNBC account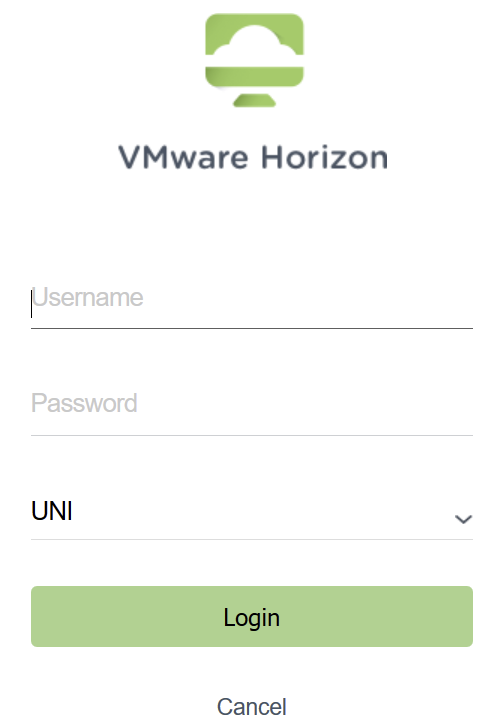 Once login, you should see the connections here (Student Virtual Lab)
Click Student Virtual Lab. Now you are on UNBC campus server.
Click start and key Remote Desktop Connection
Expend Show Options at lower left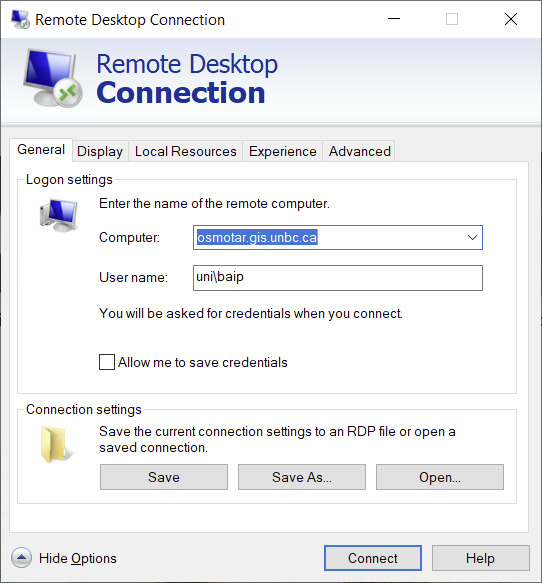 Set Computer to osmotar.gis.unbc.ca
Set User Name to UNI\your username. Click Connect. Give your password when asked
Click Connect. Now you are on GIS server Osmotar
Access GIS Lab computers
If you are on campus and want to use GIS lab computers, make sure to follow the social distancing rule. Please cleanup the mouse and keyboard after use
To login in to GIS Lab machines, turn on computer and key in your username
Click Next button. Here you will be asked for password
Key in your UNBC password and then click the setting button beside Sign In button and choose Plasma Desktop
Hit Sign In button to login. Remember to logout after use.
Note:
All our programs are running on servers. No matter where you are (on/off campus), you need to remote login to server to run program