Using our GeoTagged photos with GPSPrune and Google Earth
Many of you may have taken a crack at geolocating you mobile phone photos by using GPSPrune on you own computers. Well do to those who were successful in getting a Google Earth layer. We will review the process today using osmotar.
Downloading and launching GPSPrune on Osmotar
As GPSPrune is a JAVA program, it does not need to be installed. All we need to do on osmotar is download the file and launching the software by double clicking on it. We will doing a bit of setup for Firefox before we download the software however
Setting up Firefiox for easier use
Let's set up the Firefox browser to better suit our needs by:
Open up Firefox
Click the "Open Menu Button" . This is the pancake button far right that looks like this image
Select "Customize" (a new tab should open)
Click the "Toolbars" menu –> turn on "menu Button"
Close the Customize tab
Select the "Tools" menu from the new menu bar on the top of the browser
Click "Options"
Under "Startup" choose "restore previous session"
Scroll down to find "Download" section and choose "always ask to save files"
This should make it easier to download data in the future using Firefox.
Download GPSPrune
Download GPSPrune using the link below and save it to your k: drive (perhaps create a folder called sofware first):
https://activityworkshop.net/software/gpsprune/gpsprune_20_java6.jar
Launch GPSPrune:
Navigate to your K: drive in the windows file explorer and double click on the file you downloaded for GPSPrune.
Creating a Google Earth layer from your photos using GPSPrune
Follow the steps below to produce a KMZ file for use in Google Earth or QGIS.
Download the photos from your camera to your geog204 tutorial folder (emailing the photos and using the UNBC Outlook Web App is a simple way to get photos to you K: drive)
In GPSPrune –> Photos –> Add photos –> select the folder with the photos
Check to see if the photos have locations information
Alternatively you can add a webmap basemap to GPSPrune (View –> shop map)
Export the photos to a KMZ file (File –> Export KML)
Give the export a title, turn off Track Points and set the export to be a compressed KMZ (check out the image below)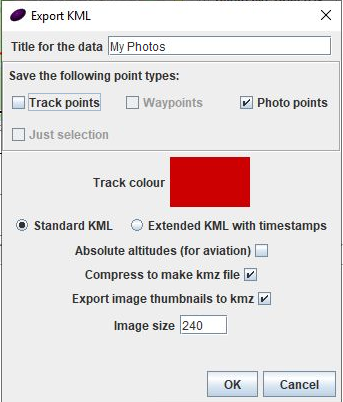 Open the layer in Google Earth
Launch Google Earth on Osmotar and load the layer by File –> Navigate to the KMZ file.
This layer can also be loaded into QGIS in the same fashion as loading the shapefiles you did in last weeks lab.
Working ahead for next week
Collecting Tracks and Points with your phone
For those wanting to get ahead on our next tutorial assignment, you can add an app to your cell phone to start collecting the type of data we will be reviewing in this week's lecture.
Apps:
iPhone – Open GPX Tracker
– Home Page: http://www.merlos.org/iOS-Open-GPX-Tracker/
– App Store: https://apps.apple.com/app/open-gpx-tracker/id984503772
Android – GPS Logger (very simple – no map interface)
– Home Page: http://www.basicairdata.eu/projects/android/android-gps-logger/getting-started-guide-for-gps-logger/
– Play Store: https://play.google.com/store/apps/details?id=eu.basicairdata.graziano.gpslogger
Both Android and iPhone can also use the OSMAnd app. It has many features including collecting tracks and waypoints.
– iPhone: https://apps.apple.com/app/id934850257
– Android: https://play.google.com/store/apps/details?id=net.osmand
A better way to get OSMAnd for Andriod is to use the FDroid repository:
https://f-droid.org/en/packages/net.osmand.plus/ (talks to Scott more about this).